**PIR RACE WILL AIR ON SPEED TV – AUG 18TH @ 3:00 pm PST**
PIR • July 24, 2011 • McGriff finished 14th on the lead lap (out of 30 cars)
Those interested should watch McGriff while we still can
Statesmanjournal.com – July 22, 2011 –  BPoehler 
Remember The Rolling Stones' last tour and how you thought you should go see them, despite the $75 ticket cost,  because this might be their final tour.  You thought the same thing the tour before that and the one before that.  Mick Jagger might be doing side projects now, but if you're a fan and the Stones tour one more time, you will want to be there.  I feel the same way about Hershel McGriff.
.
Eventually he will run his final race, so if you want to see the legend race, Sunday's Bi-Mart Salute to the Troops 125 at Portland International Raceway could be your last chance.
.
The racer from Bridal Veil in the Columbia Gorge is 83 years old and still racing, but some day he won't be.  McGriff started racing in 1945 back when stock cars were stock cars and — even though he's officially retired on at least two occasions — is still at it almost seven decades later.
.
The guy is in a bunch of sports and racing halls of fame, but the one he's not in yet is the NASCAR Hall of Fame.  He has the credentials: Four wins in what is now the NASCAR Sprint Cup Series in 1954, a championship in what is now the NASCAR K&N Pro Series West in 1986 and the record for the oldest winner (61) of a major NASCAR touring series race.
.
But for McGriff to be inducted into the NASCAR Hall of Fame he would have to be retired from driving for three years.  Fat chance.
.
McGriff has been running in the Great American Stockcar Series this season and has places of 13th, 12th and sixth.
.
He finished 20th in the first NASCAR West Series race he ran this season.
.
I've seen McGriff race probably a dozen times before — and once lucked into riding with him in a two-seat late model — during the past 20 or so years.  I've seen him lead races and have seen his No. 04 car be lapped traffic in other races.
.
Will he win Sunday's race?  Probably not.  That's not the point any more.  The point is he's doing what makes him happy.
.
If only we all could be so fortunate.
~~~~~~~~~~~~~~~~~~~~~~~~~~~~~~~~~~~~~~~~~~~~~~~~~~~~~~
McGriff Breaks Own Oldest-Driver Record at 82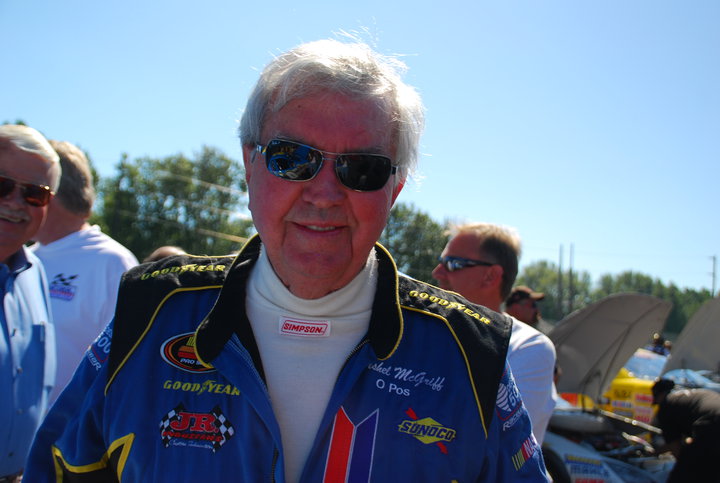 Photo credit: Mousehouse Studio/C. Davis – © 2010
PORTLAND, Oregon – Hershel McGriff, 82, pushed his own record as NASCAR's oldest competitor when he raced, for the second year in a row, in a K&N Pro Series West race at Portland International Raceway Sunday.
McGriff, who competed in the first Southern 500 at Darlington (South Carolina) Raceway in 1950 and won four races on what is now the Sprint Cup Series circuit, finished 17th. Patrick Long won the race.
An Indiana native whose family moved to Bridal Veil, Oregon, when he was a teenager, McGriff came out of retirement to compete here last year, and finished 13th.
McGriff competed in 85 races over a 27-year period in the Cup Series, then known as Grand National. He won the 1986 championship — at age 58 — in the West Series.
According to the Statesman Journal newspaper in Salem, McGriff said he enjoyed his ride Sunday, but added, "I remember when I won here in '86. I just went out there and stroked and won the race. Boy, it's not like that now.
McGriff won 37 races in the West Series, competing regularly through the 2001 season, when he posted one top-five finish


Inside Line says: McGriff was not just a token entry. Thanks to caution flags and pit strategy, he stayed on the lead lap until a flat tire sent him to the pits in the middle stages of the race. — David Green, Correspondent
~~~~~~~~~~~~~~~~~~~~~~~~~~~~~~
McGriff, 82, Returns To Portland Raceway
He broke his own record last year for oldest driver to compete in NASCAR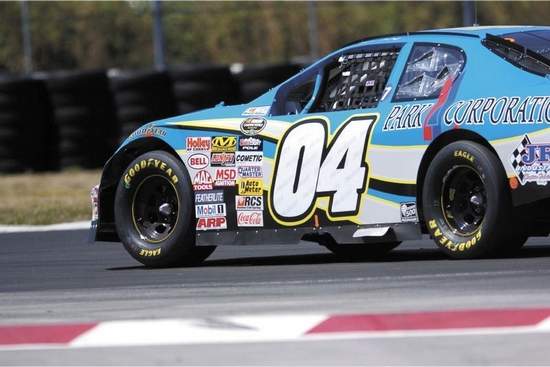 Hershel McGriff raced in the 04 car last year in Portland. This weekend, the 82-year-old will attempt to qualify and race in the Bi-Mart Salute to the Troops 125 in Portland. (Thomas Patterson | Statesman Journal file)
PORTLAND — It likely won't bring the same media attention this year, but Hershel McGriff will attempt to race in this weekend's NASCAR K&N Pro Series West race at Portland International Raceway.
In the race last year, the 82-year-old Bridal Vail native who lives in Arizona broke his own record for oldest driver to compete in a NASCAR-sanctioned touring series. "It's too bad it doesn't pay money," McGriff joked of the record,  "Well, it's a record that I don't think anybody's approaching. The oldest guys running are probably in their late 50s. Records are made to be broken. Who knows?"
After two practice sessions on the 1.98-mile road course at 1 p.m. and 3 p.m Saturday, qualifying is at 11:30 a.m. Sunday and the Bi-Mart Salute to the Troops 125 takes place at 3 p.m. Sunday.
McGriff competed in his first race in 1945 at Portland Speedway at age 17, has four wins in 85 starts in what is now the NASCAR Sprint Cup Series and was the 1986 champion of the West series.
After his comeback last year — he retired in 2002 — McGriff planned on running all three of the series' road course races this year.
The series raced June 19 at Infineon Raceway in Sonoma, Calif., but McGriff was out of the country on a vacation. He says he likely will attempt the Sept. 12 series race at Miller Motorsports Park in Tooele, Utah.
After the Portland race a year ago, there was a flood of national media attention, including mentions in USA Today, Sports Illustrated and on the Tonight Show with Conan O'Brien, where the host said, "He didn't win, but he did set the record for most pit stops."
"Here's what struck me odd," McGriff said, "I drove up until the time when I was 74.  Then I decided to lay off and I came back a few years later.  It feels like 80 was the magic figure."
McGriff hadn't raced in years, and after struggling and not making the field in the series race at Infineon Raceway, he qualified in Portland.
He qualified 21st of 26 cars and went on to finish 13th, but the layoff from racing competitively hurt the then-81-year-old, and he admitted he needed practice.  "I did," McGriff said. "Everything was kind of new."
To that end, McGriff went last weekend to Chuckwalla Valley Raceway, a country club-style road course in Desert Center, Calif., to practice on his way to Oregon.
McGriff held up physically during last year's race, but he burned his heel in the race at P.I.R.  He will be more prepared to race this year.
"I've got the air conditioning for my helmet," McGriff said. "My wife says I couldn't run unless I got it." 
~~~~~~~~~~~~~~~~~~~~~~~~~~~~~~