The Ageless Wonder – At It Again!
In 2009, Hershel McGriff aged 81, broke his own standing record to become the oldest driver to win and or race Nascar. McGriff took on three road courses during the months of June and July (Infineon, Miller Motorsports and Portland), and on July 19, 2009, raced to a 13th place finish at Portland.  This year, he is considering tackling the Portland International Raceway road course yet again. 
NASCAR legend Hershel McGriff began racing stock cars in 1945 after racing resumed in the U.S. following World War II. At the age of 17, he raced at the Portland Speedway where he finished 12th or 13th in a 250-lapper on a muddy, 5/8-mile track in his minister father's 1940 Hudson while his father prayed under the bleachers. At age 81, he will be NASCAR's oldest active competitor and NASCAR Camping World Series West's (formerly the NASCAR Winston West series) oldest and winningest active competitor, with 31 victories.
McGriff won the inaugural Mexican Carrera Panamericana road race in 1950, outrunning 131 other cars including NASCAR founder Bill France, Curtis Turner and other NASCAR drivers. France convinced McGriff to come south and race in the first Southern 500 race at Darlington Raceway. McGriff drove his car from Portland, OR to Darlington, SC, finished ninth in the Southern 500 and drove back to Portland the following week.
In 1954, although the season was partially over, France convinced McGriff to run the balance of the Grand National series. He ended the season with four wins, 17 top-10 finishes in 24 events, and finished sixth in the final points standings despite missing the first 10 races that season. McGriff's average finishing position was higher than points champion Lee Petty. That same season, McGriff won a race during NASCAR's first season of what is now referred to as the Camping World Series West. It was then known as the Pacific Coast Late Model Series.
In 1955, McGriff was offered a ride in NASCAR to race for millionaire Carl Kiekhaefer's newly formed team. Deciding not to race, McGriff returned home to the West Coast to be closer to his family, and to tend to his growing lumber mill business. Tim Flock drove Kiekhaefer's Chrysler 300 to 18 victories that season and the season championship.
McGriff returned to racing after not racing for around 10 years. He started 41st at Riverside in 1969, and moved up to second place by lap six. He beat Ron Grable in a photo finish that day.
During the 1970's, McGriff drove for Petty Enterprises, swapping positions with the likes of Richard Petty, Cale Yarborough, A.J. Foyt, and Johnny Rutherford. He has competed in the SCCA Trans-Am Series and finished 19th in the 1982 Endurance Le Mans race, but the majority of his seat time has been in a NASCAR stock car.
In 1986, McGriff won the Winston West Series championship.
He became the oldest driver to win a NASCAR feature race when he won an AutoZone West Series race in 1989 at the age of 61. His 14 wins at the defunct Riverside International Raceway is the most at NASCAR-sanctioned events, and he was chosen as the grand marshal for the final race at the track in 1988.
In November 1996, McGriff made the trip with several NASCAR champions, Winston Cup, Busch Grand National and Craftsmen Truck Series drivers to Japan's Suzuka Raceway for an exhibition race known as the NASCAR Suzuka Thunder Special.
During NASCAR's 50th anniversary celebration in 1998, McGriff was elected one of NASCAR's 50 greatest drivers.
Career Highlights:
McGriff was named Most Popular Driver in the NASCAR Winston West Series for 12 consecutive years from 1981-1992.

In 1994, McGriff was presented with NASCAR's prestigious Award of Excellence at the Waldorf-Astoria Hotel in New York.

In 2001, McGriff was inducted into the Oregon Sports Hall of Fame in Portland.

In 2002, McGriff was inducted into the first class of the West Coast Stock Car Hall of Fame in Irwindale, California.

In 2006, McGriff was inducted into the Motorsports Hall of Fame of America in Novi, Michigan

In 2009, McGriff broke his own record by racing at Portland International Raceway as oldest driver to win or race NASCAR

NASCAR Hall of Fame – Class of 2023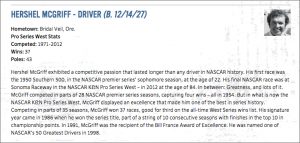 McGriff Motorsports – 2016 ©